: HTAsoft.com

Context Menu Customizer Hta version 0.5 Beta
by Fredledingue

Last update: 9th of april 2009

To download (200 Kb) click here

DESCRIPTION:

-Add, remove, edit items from the context menu for a filetype or a file extention, drives and folders.
-Add, remove, edit Fast Explorer items in the context menu (if the component {included} is installed).
-Modify basic settings for the file type (icon, double-click/open program, caption).
-Interface designed to be as easy as possible for n00bs, GeeKs, ultra-advanced users and even aliens from "Independance Day". ;)
-Freeware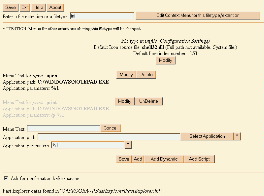 ---
INSTALLATION:
1/ Unzip into a folder of your choice.

2/ Double-click Install_JcbOcx.vbs (required)

3/ Double-click Install_FastExplDll.vbs (Optional)




IMPORTANT:

Because of the system protection implemented on Windows VISTA, I cannot garantee that this program will work on this OS, or that it will be fully fonctional, or that the components will even install.
As you know, on Vista viruses control your computer, not you. :-)

If you want to try it on Vista (perhaps with your configuration, or by reloging as an administrator it will work), please note that you cannot install this program in "Program Files" or in "Windows" or in one of their subfolder.
I recommand to install it inside the "Public" or in one of the user's "Document" folder.

On XP, I recommand using this program as an "Administrator" or with similar privileges.
Avoids the "Windows" folder for installation.

On w98, you can do what you want.

Non-updated W98 platforms:
Windows Script Host 5.6. is strongly recommanded! (normaly installed with uSP2 or above)
If you see an error message while using these scripts, please download it from Microsoft. (Size 664 KB) or install recklessly the Unofficial Service Pack for Windows 98SE (Size 16Mb)

---
HISTORY:


0.1
-First (experimental) release

0.2
-Fixed: Change in filetype settings not taking effect
-Added: Ask to Delete hex datas keys which prevent changes to take effect

0.3
-Fixed item display bug when the item command line doesnt' contain "C:\\".
-Fixed error when extention has no icon set at all, not even a default one.
-Fixed fastExplorer.ini not found or empty while it's not the case

0.4
-Added: Support for Windows XP and Regedit version 5.0

0.5
-Fixed a new bug in reading temp.reg on w98
-Changed default DingueVBS key to "HKCU\SOFTWARE\DingueVBS\" for Vista compliance

---
SPECIAL THANKS:
to Mr Bellamy for his jbc.ocx component and Mr Yakovlev for FEShlExt.dll.

---
TERM OF USE:

Free to use and distribute for private and non commercial and non professional purpose.
These scripts and softwares included in this package are under copyright protection.

They are provided freely and without warranty. Their authors can not be held responsible for damage or loss of data resulting from the direct or indirect use of these scripts or softwares.

Use at your own risk.

---
CONTACT: projects@htasoft.com

See also HTAsoft's homepage
and Maxthon Plugins and Installed Files Checker and W98SE Post uSP3 Updates and BigOpenBox for w98 and Aviutl's tutorial